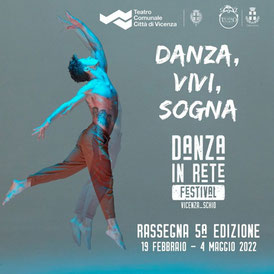 We are more than proud to be part of the fifth DANZA IN RETE Festival in Vicenza, Italy, with our production "The Blind Narcissist". For Saeed Hani and his dancers Gabriel Lawton and Robin Rohrmann it will be the third tour stop in three weeks after shows in Luxembourg and Germany.
"The Festival is billed as a "global" event, promoted by the City of Vicenza Civic Theater Foundation and by the Civic Theater Foundation of Schio that pervades the entertainment venues and urban spaces of the two cities, making the Dance, its expressive modes and relational potential, as the icon and identifying trait of the area. The festival occupies the entire area, with events scheduled at different locations, in the main theaters and artistic spaces, local monuments and plazas over a period of over two months with numerous performances, meetings and lectures featuring dance experts and artists, audience development opportunities and engagements that involve the public actively." (self description)
Here is the link to the festival homepage.
Tickets are available here.
Thank you so much to Kultur | LX  for the kind support.