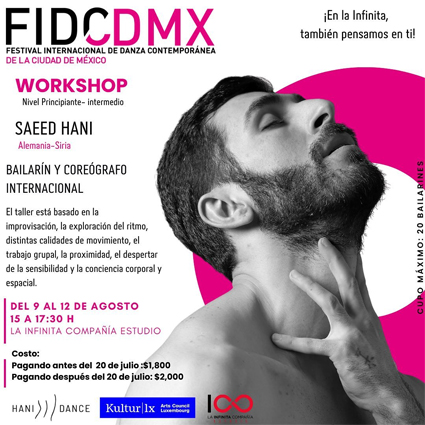 Within the FIDCDMX Saeed will hold a contemporary dance workshop at the beginners/intermediate level at the Infinita Compañía Studio / Mexico City.
The workshop is based on improvisation, the exploration of rhythm, different qualities of movement, group work, proximity, the awakening of sensitivity and body awareness.
From August 9 to 12 • 3:00 p.m. to 5:30 p.m.
Cost: 1.800 Mex$ (sign up before Juy 20th)
after: 2.000 Mex$
Further information via Whatsapp 55 2070 0602
Video link, click here.
Next to Saeed's workshop the festival offers an Ohad Naharin repertoire intensive taught by Batsheva Dance Company dancers and a Jiry Kylian repertoire course taught by the legendary Glen Edgerton, ex- director of the Netherlands Dance Theater and Hubbard Street Dance Chicago. That is what you can call "being in good company".
Supported by Kultur | lx