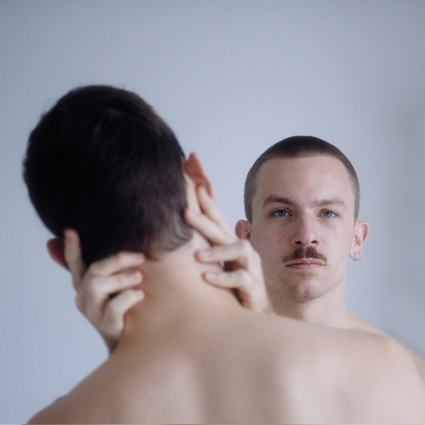 The rehearsal period for the duet "The Blind Narcissist" started on September 21th at the TUFA Cultural Center in Trier. We could engage two outstanding dancers for the project: Robin Rohrmann and Gabriel Lawton - both living in Berlin. "The Blind Narcissist" will premier on October 22nd at the Messepark Trier.
 Tickets are available here.
About Robin Rohrmann:
He studied dance at the Rotterdam Dance Academy and the Frankfurt University of Music and Performing Arts. He was member of the dance company at the St. Gallen Theater and worked there with Marco Santi, Yossi Berg & Oded Graf, Marcel Leemann and Linda Kapetanea & Jozef Frucek. As a freelance dancer he worked for VA Wölfl / NEUER TANZ, Anna Konjetzky, Tina Tarpgaard, Dana Caspersen, Yossi Berg & Oded Graf, Verena Billinger & Sebastian Schulz, Marcel Leeman, Canan Erek and Jascha Viehstädt. He has been a guest at a variety of international festivals and theaters such as the Whitebird Festival Portland (OR), International Exposure Festival Tel Aviv, Holland Dance Festival Den Hague, Suzanne Dellal Theater Tel Aviv, Dansehallerne Copenhagen, Alta Studios Prague, Sommerszene Salzburg, Tanz in August Berlin, Favoriten Festival Dortmund. Robin is also happy about the opportunities to combine dance and singing in musicals, most recently with Romeo & Juliet at the Thunerseespiele and West Side Story at the Vereinigte Bühnen Bozen.
About Gabriel Lawton:
Born in Hobart, Tasmania, the English, and Australian Gabriel Lawton earned his Bachelor of Fine Arts in Contemporary Dance Performance at The Boston Conservatory in the United States. Whilst living and working in the US, he was a founding member of the dance film company Wilder Project, whose films have gone on to win a number of awards at festivals across the country. After moving to Berlin, he worked early on with Berlin-based dance company Chaim Gebber / Open Scene, performing in Germany and Austria, before joining an ensemble put together by Festspielhaus St. Pölten, Austria, to perform Ohad Naharin's Decadance in their shared evening of work by Ohad Naharin and Shahar Binyamini. Following that, he worked as a guest artist in Polish Dance Theatre in Poznań, before returning to Berlin. In Berlin, he has worked with and continues to work with a number of choreographers, including Tomer Zirkilevich, Julia Maria Koch, Yael Cibulski, Roni Rotem, and Franka Marlene Foth as part of her FMKF Collective 030. With these artists, he has enjoyed performing in venues and festivals across Europe and in Central America. Most recently, he was engaged with YET Company in Braunschweig, under the direction of Fabian Cohn, for their production Umarmen.